Slot Machine overwhelmed by positive feedback to "Phiang Wai Chai" and "Free Fall" from international fans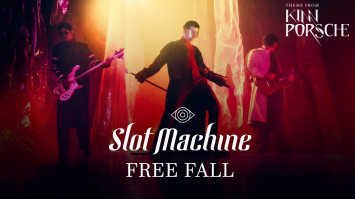 ""
Thai rock band Slot Machine have been releasing English-language tracks for a number of years and this year, the group adds two new cool rock tracks "Free Fall" and "Phiang Wai Chai" to its English-language catalogue. Both tracks come from the soundtrack of the global hit action BL serires "KinnPorsche The Series".
On its release on 23 March 2022 "Free Fall" immediately drew positive responses from international fans, with the song being shared on social media around the world. The amazing response has come not only from neighbouring countries like China, Indonesia, the Philippines, and Vietnam, but from fans in countries like Italy and Turkey as well. What has surprised the Slot Machine most is that they now have fans as far afield as Mexico, Brazil and many other Latin American countries who are just discovering the band after the release of "Free Fall" and "Phiang Wai Chai". The collaboration of Slot Machine with "KinnPorsche The Series" is another example of soft power pushing Thai entertainment onto the global market.
Slot Machine released their first English-language album "Spin The World" in 2016 which they followed with "Third Eye View" in 2020. Now in 2022, Slot Machine is maintaining their desire to bring Thai music to overseas markets with the release of the singles "Phiang Wai Chai" and "Free Fall".
For international fans wanting to check out the show, "KinnPorsche The Series" is now available on "iQIYI" and U-NEXT (Japan only).
Watch the MVs "Free Fall" and "Phiang Wai Chai" (Theme from "KinnPorsche The Series")
· MV "Free Fall" - https://youtu.be/kmyysYijJ2Y
· MV "Phiang Wai Chai"- https://youtu.be/ajC57Xg1u-Q
FOLLOW SLOT MACHINE:
FB: SLOTMACHINEROCK
IG: SLOTMACHINEROCK
YOUTUBE: SLOTMACHINEROCK
TIKTOK: SLOTMACHINEBAND
TWITTER: SLOTMACHINEROCK
FOLLOW KINNPORSCHE THE SERIES:
FB: https://bit.ly/2WquiTT
IG: https://bit.ly/3mBnXjg
Twitter: https://bit.ly/3km0pMq
YouTube: https://bit.ly/2Ws6Rtl