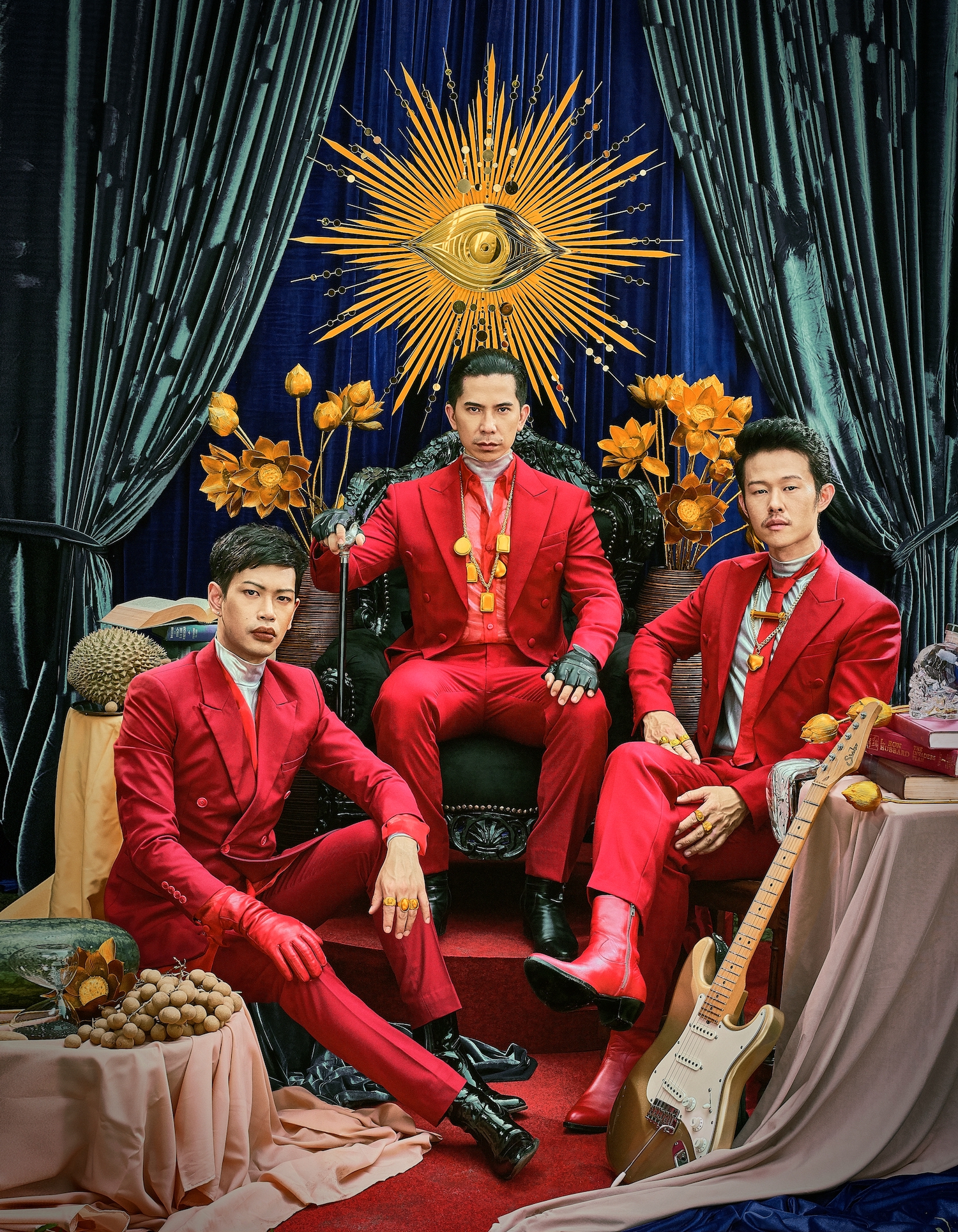 MEMBERS (L - R)
Atirath "Gak" Pintong (Bass) Karinyawat "Foet" Durongjirakarn (Vocals) | Janevit "Vit" Chanpanyawong (Guitar)
Formed in 2004, Slot Machine is Thailand's leading rock band whose style blends modern rock and their distinct Thai identity. The band is renowned for its incredible live performances and they have performed to enthusiastic audiences at every major music festival in Thailand. Their unique sound, sci-fi/futuristic image & triangle hand sign iconography are familiar to millions of Thai rock fans.
Slot Machine started off as a group of high school boys competing in national music contests.
Their self-titled debut album released in 2004 featured the hit single 'Ro' (I'm Waiting For You). Their sophomore effort "Mutation" followed in 2006, produced by Scott Moffatt, former member of the Canadian band The Moffatts. Scott added a new element to their music, and the album produced two megahits: 'Phan' (Yesterday) and 'Kham Sutthai' (Song for U) . Shortly after the release of their second album, Slot Machine were chosen as the opening act for Linkin Park's Bangkok concert in front of 30,000 fans.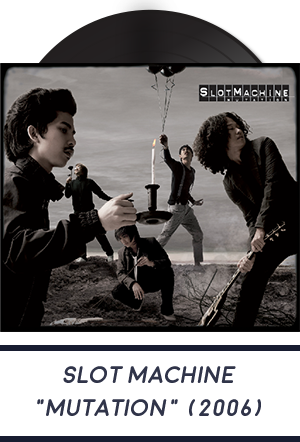 "Phan"from mutation(2006)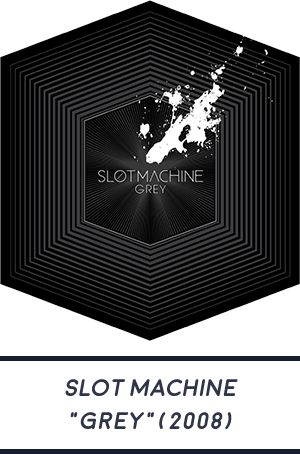 In 2008, the band released their third studio album, "Grey". It was a more challenging album featuring a more experimental sound on songs like 'Fan' (Dream) and 'Rue Du' (Grey Sky) , but fans embraced the band's continued musical evolution and their outstanding live performances saw the band continuing to grow.
However, it was their fourth studio album "Cell" in 2011, which really shot Slot Machine into the stratosphere as one of Thailand's greatest rock bands. The Montonn "Jay" Jira-produced set was named 'Album of The Year' and the group was proclaimed 'Best Group' in numerous media awards. Hit tracks from the album included 'Chan Chao' (Goodbye)"Pluto Thirak" (Pluto My Love) and 'Phra Athit Songklot' (Golden Age)
"Chan Chao"(Goodbye)
Following on from the success of "Cell", 2013 was Slot Machine's golden year. They were nominated for the 'Best Southeast Asian Act' at the MTV Europe Music Awards, and their ongoing work with MTV on the network's Human Trafficking Awareness concerts culminated in the band performing on the same stage as Jason Mraz at the MTV EXIT LIVE IN MYANMAR charity concert held in People's Square, Schwedagon, Yangon before 70,000 people, to raise awareness about human-trafficking.
Slot Machine were again nominated for 'Best Southeast Asian Act' at the MTV EMA's in 2014 – and in the same year released their fifth album, 'Rainbow', produced by talented Australian producer, Daniel Denholm. The album included the hits 'Rung' (Rainbow) and 'Khloem' which generated over 150 million views on YouTube.
"Khloem" (2014) from Rainbow
"Slot Machine - The First Contact" 10 Anniversary Concert
At the end of 2014, Slot Machine celebrated their 10th anniversary by performing a live concert before 15,000 fans 'Slot Machine – The First Contact' at Impact Arena, Thailand's largest indoor concert venue.
The band's next adventure involved tackling the international market. Slot Machine's first all-English album was released in early 2016. Slot Machine has always been willing to take risks, and the band members believed the time was right. With the help of six-time Grammy Award-winning producer, Steve Lillywhite who has worked with U2, The Rolling Stones, The Killers and 30 Seconds to Mars, the album heralded a new chapter in the band's career.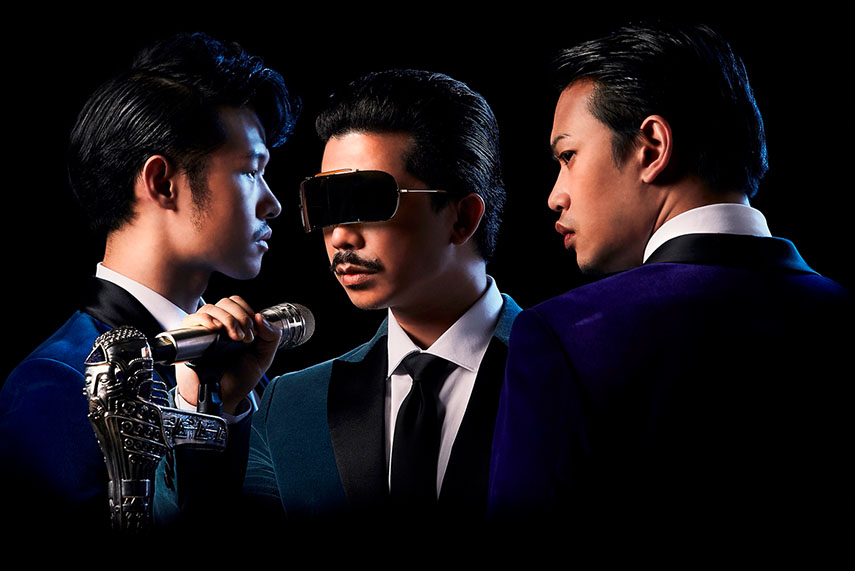 Steve Lillywhite shared his views on seeing the band live for the first time, "I was amazed by both their musical talent and the age of their audience, who, for a rock band, were young. It's my rule that I must see a band perform live first before deciding whether to work with them. Slot Machine impressed me. It was great to see the young audience enjoying their music. It's new to me. I thought I could help the band reach another level."
Slot Machine released the lead single 'Give It All To You" from the album "Spin The World" on 27 July 2015. This was the band's first international single, released via Sony Music distribution in Australia, China, Egypt, Hong Kong, India, Indonesia, Korea, Malaysia, New Zealand, Philippines, Saudi Arabia, Singapore, the UAE and Taiwan.
In August 2015, Slot Machine performed at their first international music festival in Taipei at the 'Super Slippa Festival', sharing the stage with Asian & international acts including Magic Power (Taiwan), MayDay (Taiwan) and Suzanne Vega (USA)
In early September, Slot Machine had the opportunity to write and perform the theme song for "Hormones 3 The Final Season", a hit teen TV series which was the talk of the town with Thai viewers. The band appeared at the press conference for the series' season launch and introduced "Yorn" (Retrace) as the new theme song of the series.
Later in 2015, the International Organization for Migration(IOM) launched a new campaign to prevent human trafficking and exploitation called IOM X. Slot Machine was honoured to participate in this campaign, by providing the soundtrack and featuring in IOM X's Prisana's video.
Slot Machine embarked on their first UK tour in October 2015. They performed in Bristol, Brighton and London, where they were embraced by both Thai and English audiences.
In 2016 the band were invited to perform at The Dawn Concert, Taipei's New Year event organised by the Taipei City Government, as well
all the major Asian Rock Music Festivals, (Japan's Fuji Rocks, Taiwan's Super Slippa, Korea's Jisan Valley & Hong Kong's Clockenflap), to rave reviews.
In 2017, the band rocked audiences in North America on Live Nation's 'Asia On Tour' trek. 'Asia On Tour' featured Miyavi from Japan, Slot Machine from Thailand and Kiha & The Faces from Korea - three renowned artists who represent a new wave of Asian music.
The band completed that tour with their second solo arena concert "Slot Machine: The Mothership Concert" at Bangkok's Impact Arena, where the band delivered an exhilarating performance to an ecstatic home crowd.
In 2018, Slot Machine went on to work with two top US-based producers: Brandon Darner (Imagine Dragons, The Envy Corp) and Justin Stanley (Beck, Prince, David Bowie) which gave the band a new perspective on songwriting and music production.
The band released four new English-language singles, "Know Your Enemy", "Magic", "Hummingbird", and "Bangkok, and three Thai-language singles "Rao Ma Yang Santi", "Lok Sommut", and "Plueak". The new album, "Third Eye View", released in 2020 comprises 14 tracks in English and four in Thai.
After the longest pause in their career was forced on them by the COVID-19 pandemic, Slot Machine was back in action in July 2021 with the release of "Chai No Chai" an uplifting rock anthem fuelled by a positive message for everyone to stand up and move on with their lives post-pandemic.

March 2022 saw Slot Machine release the theme song for the international hit TV show "KinnPorsche The Series". The band released their new single simultaneously in both English ("Free Fall") & Thai ("Phiang Wai Chai") versions. The success of "Free Fall" and "Phiang Wai Chai" has opened new opportunities for the band with thousands of new international followers on their social media profile, and streaming services.

This is just the beginning of Slot Machine' new chapter. The band is now back, full of confidence, and ready to take on the international music scene.
AWARDS

2019

2019 Group of the Year

Nine Entertain Awards

2018

Best South East Asian Act

MTV Europe Music Awards

2017

GOLD RECORD - GQ MEN OF THE YEAR

2016

ASIAN PERFORMANCE

CLASSIC ROCK AWARDS

VISUAL & POPULAR CULTURE AWARD

PRUDENTIAL EYES AWARDS

2015

[NOMINATED] 'BEST SOUTHEAST ASIAN ACT'

MTV EUROPE MUSIC AWARDS

2014

[NOMINATED] 'BEST SOUTHEAST ASIAN ACT'

MTV EUROPE MUSIC AWARDS

2013

[NOMINATED] 'BEST SOUTHEAST ASIAN ACT'

MTV EUROPE MUSIC AWARDS

2012

BEST GROUP ARTISTS

9 ENTERTAIN AWARDS

BEST GROUP ARTISTS

SEASON AWARDS

ALBUM OF THE YEAR

'CELL' - SEASON AWARDS

2011

ALBUM OF THE YEAR

'CELL' - CHANNEL [V] THAILAND AWARDS

BEST STYLE ARTIST

THE GUITAR MAG AWARDS

BEST STYLE ARTIST

THE GUITAR MAG AWARDS

BEST GROUP ARTISTS

KOM CHAD LUK AWARDS

ALBUM OF THE YEAR

'CELL' KOM CHAD LUK AWARDS

2010

RECORD OF THE YEAR

'CHAN CHAO' (Goodbye) FAT RADIO AWARDS

BEST CINEMATOGRAPHY MUSIC VIDEO

'CHAN CHAO' (Goodbye) - CHANNEL [V] THAILAND AWARDS

2007

SONG OF THE YEAR

'PHAN' (Yesterday) - SEED AWARDS