Slot Machine prepare for out-of-this-world gig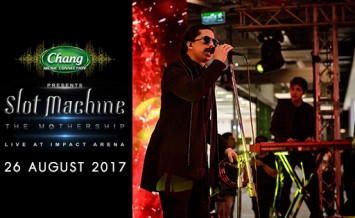 "Slot Machine prepare for out-of-this-world gig with "Chang Music Connection presents Slot Machine - The Mothership Live at Impact Arena" on 26 August 2017 "
Rocking the earth is not enough for Thailand's top rock band Slot Machine. The band is getting ready to take fans on a new journey into their universe with a large-scale concert, Chang Music Connection presents Slot Machine - The Mothership Live at Impact Arena on Saturday 26 August 2017 at Impact Arena, Muang Thong Thani. Tickets go on sale on Saturday 20 May at 10.00am.
Slot Machine have steadily been building themselves an international fan base through performances at leading music festivals including the Super Slippa Festival in Taiwan, the Jisan Valley Festival in Korea, the Fuji Rock Festival in Japan, and the Clockenflap in Hong Kong. The band also recently completed a hugely successful 14-city tour of the USA and Canada with Japanese star Miyavi, and Kiha & The Faces, an indie band from South Korea, in the Asia On Tour trek. The band received rave reviews from the American media with the LA Music Blog describing the band as "…a charismatic force on stage," and having "…an arena-caliber sound." MACG magazine gushed of the band's "…absolute standout performance…" at their Houston show, and that they "…overflowed with the spirit of rock and roll…"
The band members: vocalist Karinyawat "Foet" Durongjirakan, bassist Atirath "Gak" Pintong, drummer Settharat "Auto" Phangchunan, and guitarist Janevit "Vit" Chanpanyawong, are ready to take all their international concert experience and apply it into what will be the ultimate live rock performance for their Thai fans.
Foet said of the concert, "Touring foreign countries gave us great new experiences and allowed us to experience how things are done on an international level. As for The Mothership concert, it is the sequel to The First Contact concert which took place in 2014. If we view that concert as being the first time we visited earth, this concert will be like us taking our fans onto our mothership to embark on a fantastic journey with our music! I believe that this will be another historic concert. The stage, lighting, sound, and visuals will be of an international standard and designed to give our audience a spectacular and out-of-this-world experience."
Don't miss Slot Machine's biggest-ever concert - Chang Music Connection presents Slot Machine - The Mothership Live at Impact Arena on Saturday 26 August 2017 at Impact Arena, Muang Thong Thani. Ticket prices start at Bt800 and will be available from 10am on 20 May at all ThaiTicketMajor outlets or at www.thaiticketmajor.com. For more information, please call 0-2262-3838. For further updates, please visit www.bectero.com, Facebook: www.facebook.com/bectero, Twitter: @BEC_Tero_Ent, and Instagram: BECTERO_ENTERTAINMENT.
Ticket details
Seated tickets Bt900/1,500/2,000 and 2,500
Standing tickets Prices vary depending on sale periods shown below (limited numbers apply)
| | | | | |
| --- | --- | --- | --- | --- |
| Time period | 20 May – 3 June | 4 June –18 June | 19 June –3 July | 4 July –26 August |
| Standing zone A | 1,200 | 1,500 | 1,700 | 2,200 |
| Standing zone B | 800 | 1,100 | 1,300 | 1,600 |
Another quality production from BEC-Tero Entertainment
For media enquiries, please contact
Public Relations Department, BEC-Tero Entertainment
Payungjit Kosopa (Aeh) 089-511-2498 [email protected]
Tanaporn Kimyong (Tam) 093-328-4429 [email protected]
Tel. 0-2262-3800 ext. 2817 Fax. 0-2262-3921
About the artist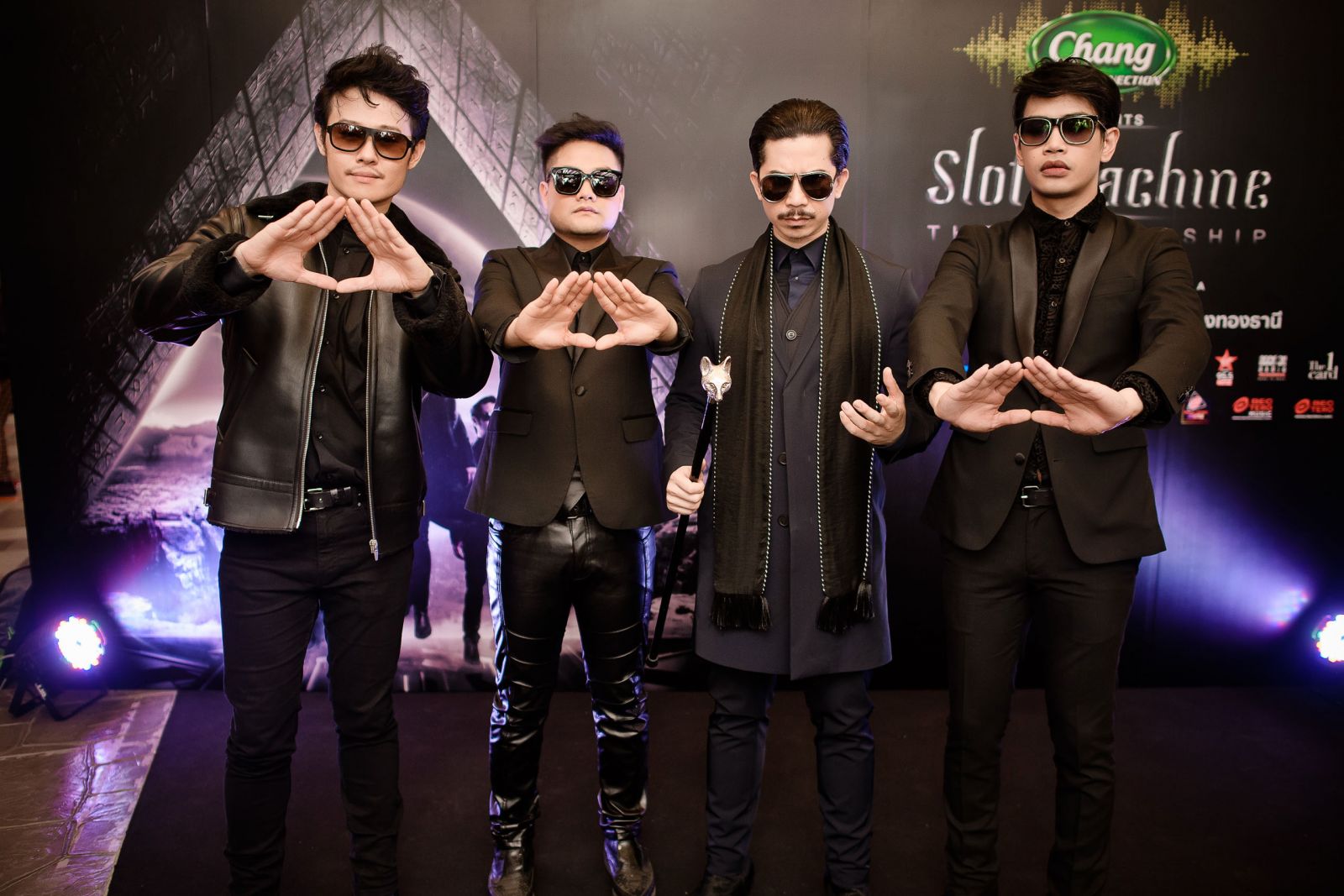 Slot Machine's story is one about Thai artists who were determined to succeed and for 10 years, they have been fighting against all kinds of obstacles in order to achieve their goals. Music is their main job. With ten awards from national stages and two awards from Asian stages, it's no accident that Slot Machine became one of the most talked-about rock bands in Asia. The band also put Thailand on the rock map by being nominated as Thailand's representative for MTV Europe Music Awards (MTV EMA) for three consecutive years from 2013 - 2015. They have launched six albums with many chart-topping hits such as Ror, Pharn, Kam Soot Tai, Fun, Rue Do, Chan Chao, Phra Arthit Song Klod, Roong, Kloem, Yang Muan Doem, Mai Mee Kwam Rak, and more. They are now thriving to create more quality music and recently launched an English album called Spin The World, aiming to take their music to the international stage. With six-time Grammy Awards-winning producer Steve Lillywhite who used to work with many well-known artists such as U2, The Rolling Stones, The Killers, 30 Seconds to Mars, and more, Slot Machine is not just another Thai rock band but an international artist by right.
In 2014, Slot Machine was highly successful with The First Contact concert, their first big concert celebrating 10 years in the music industry. The concert was packed with over ten thousand fans in the audience. It received overwhelming feedback from fans and the media for the band's energetic live performance and the spectacular production that is on a par with international concerts.