SLOT MACHINE AWARDED THE 2016 PRUDENTIAL EYE AWARD FOR VISUAL AND POPULAR CULTURE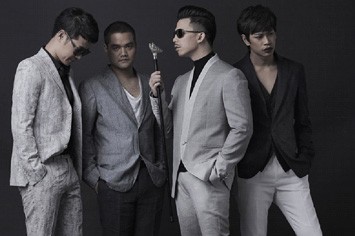 "SLOT MACHINE AWARDED "
Singapore, 11 January 2016 – The Prudential Eye Award for Visual and Popular Culture recognises that artistic creation across Asia often crosses genres and is creatively cross-disciplinary. It exists to signpost that visual art should not be taken in isolation but as one of the creative industries that interweave and make emerging Asian culture innovative and exciting. The Award is given to an individual or group who look to their own place of origin as a place of inspiration but aim to transport that initial space of creativity onto an international stage.
This year, the Award goes to the Thai rock group Slot Machine. The group released their self-titled debut album in 2004 and this was followed by four further albums over the next ten year. The fourth album "Cell" won a number of awards as well as securing them a nomination as the 'Best Southeast Asian Act' at the MTV Europe Music Awards, a nomination that was repeated in 2014. They are currently preparing to release their first all-English album,produced by 6-times Grammy Awards winner, Steve Lillywhite (U2, The Killers, 30 Seconds To Mars) The group creates music that has a unique Thai sound, particularly through the use of guitar melody and vocals, which are rooted in traditional Thai music. This is fused with an international awareness of contemporary rock music, fashion and art. Their first foray into English language songs marks a moment of taking the local to the global, and is why they have been given the Prudential Eye Awards for Visual and Popular Culture.
David Ciclitira, Founder of the Prudential Eye Awards said, "Slot Machine fuses together the traditional and the super-contemporary, Thai and international influences into a unique sound. Their crossover into fashion through their stylish live appearances and creative videos is testament to the cross-disciplinary ethos that is central to this Award. I'm delighted they've won it!"
Accompanying the awards is a public exhibition at ArtScience Museum which will run from 16 January to 27 March 2016. The exhibition will shine the spotlight on 39 works from the 15 shortlisted artists for the Prudential Eye Awards in the following categories: Digital/Video, Installation, Painting, Sculpture and Photography. This is the second year that Marina Bay Sands is hosting the prestigious awards ceremony and the exhibition.
For the first time ever, the Prudential Eye Awards Ceremony on 19 January is open to the public. Slot Machine will hold an exclusive performance at the Awards Ceremony. Admission is complimentary, and tickets can be redeemed at: http://entertainment.marinabaysands.com/events/eye0116